Testimonials from our Clients and Lenders.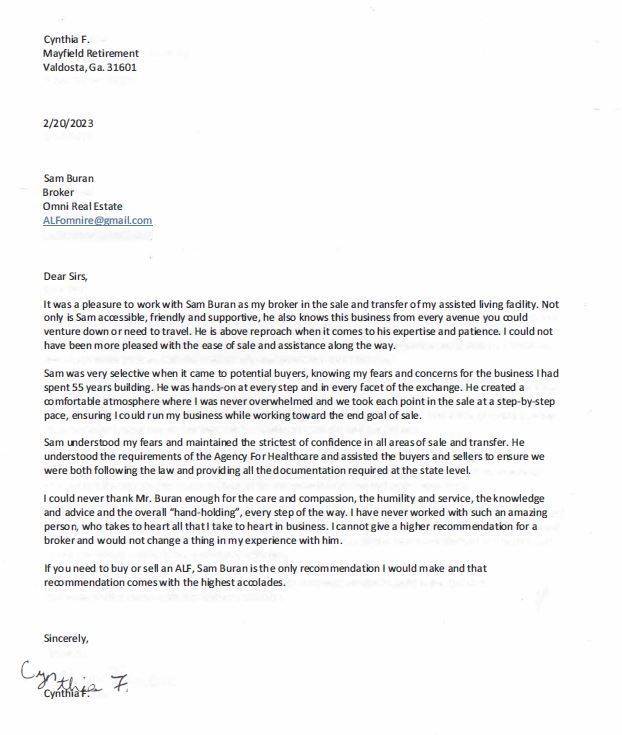 August 8th, 2021

Sam,
Thank you so much for all that you have done. The first time I reached out to you was about ALFs in 2017. Since then, you have helped and guided me to be where I am today, owner of two ALFs. Your vast knowledge in the ALF field is astonishing. You knew the next steps before I can explain my obstacles. I did not think it was possible but with your guidance, we made it happen. It was a pleasure working with you and I am looking forward to the next project! What do you have available?
M.L.
Volusia County, FL
February 5th, 2021

Sam,
We want to extend a heartfelt "THANK YOU" for your hard work in getting this (deal) to the finish line. Your extra effort to see the sale through exemplifies not only your professional abilities, but what a class act you are on a personal level as well. We would not hesitate for one second to recommend your company to anybody looking to buy or sell and ALF. Thanks again Sam, you are the best!
David & Theresa B.
ALF owners/sellers in Seminole County
August 10th, 2019

Dear Sam,
Just wanted to say thanks for all you did to sell my ALF. You saved me a lot of time and trouble because I had no idea how to go about it. As a testimonial I would like to say you are very professional, impressed me with your knowledge and as we continued to meet I felt like you were family! I am glad we had you to do all of this, not only for the seller but you assisted the buyer with all of the work they had to do. I don't know how you remember all of the items for the state too. You did well and you are much appreciated by this family! Wishing you and yours well!
Susan Conway
Silver Lake ALF
May 3rd, 2019

It was the greatest pleasure working with Sam. I'm someone that didn't know anything about ALFs, much less the sale and purchase of one. Sam made it very easy to understand the process and assisted with the sale every step of the way. It could not have been any easier as Sam explained everything as the deal unfolded. Sam was a transaction broker; I had no doubt in my mind that Sam was looking out for the best interest of all parties! He assisted with forms, financing, state applications, paperwork and answered lots of my questions along the way, including an ALF since he had hands on ALF experience. Would I recommend Sam?....Absolutely! Can't wait for my next facility purchase as I know where I will be going!
T.R.
ALF Owner
January 5th, 2019

Dear Sam,
Our Family would like to thank you for helping us purchase a 40-bed facility. Thank you for always making yourself available, for your wealth of knowledge, for your honesty, kindness, and for your patience! Sam, you are a miracle worker! it was a wild ride and a stressful process fir sure and you made it happen! thanks again for going above and beyond to help us close on this property. We could not have asked for a better Broker!
Wishing you and your family a Happy & Prosperous New Year!
Thanks again,
The Margaret & Les p. Family
January 1st, 2018

Congratulations Sam, we just finished signing all the docs and closed the deal! We now own a 40 bed ALF. Thank you so much for helping make this possible. My attorney mention that you are an amazing Broker! He definitely is right.
G.A.
ALF Owner
January 1st, 2018

Happy New Year to you Sam! Was thinking about you just the other day and thanking God for brining you into our lives so that we could sell our ALF and have more time with my wife and doing adventurous things. You have been a blessing to us as well as many other people I'm sure. Hope you have the most prosperous year ever in 2018!
T.B.
Happy Seller

January 1st, 2018

Sam, many blessings to you and your family this holiday season. Thank you for allowing our bank to help you with financing and funding loans for your ALF clients. It is a blessing to work with honorable people such as yourself!
Sincerely,
P.M.
Vice President, NSB(SBA Lender).
September 7th, 2016

Dear Sam,
My wife and I want to thank you from the bottom of our hearts for the sincere and professional way you handled the entire listing and sale process of our Assisted Living Facility.
Your incredible knowledge of every aspect of the business, through attention to every detail and constant communication along the way was greatly appreciated.
You aggressively advertised and then carefully qualified prospects prior to showings. Above all, your positive attitude and continual persistence led to the desire result..... a transfer of ownership.
We highly recommend you at any opportunity.
Sincerely,
Tim and Louise Beverly